A Nigerian husband Ife Akintunde has stirred massive reactions on Twitter after he shared a photo of his wife's email asking to be given more monthly upkeep
Many tweeps said that if every marriage is as lively as his, then they do not mind getting married very soon – With a witty approach, the woman said she is qualified for the increment because she has served well in various capacities
A husband, Ife Akintunde, has taken to Twitter to share a snapshot of the email his wife, Akintunde Titilayo, sent to ask for an increase in her upkeep money. Recall that a wife earlier on Monday, February 22, said that when she wanted to ask for money to start a business, her hubby asked for a proposal.
In her tweet, she asked people to wish her luck as the presentation of her proposal will be coming up on Tuesday by 8 am.
Akintunde's tweet was one of the comments under the woman's post. In the snapshots, Titilayo said she is asking for an increment because she has worked well in his company for three years.
See his tweet below and the screenshots:
vibezone.com.ng compiled the reactions to the man's tweet below:
@EmemEmemussoro said: "Good to marry a woman that is educated."
@kingsbenson_ said: "Now I think I am ready to get married."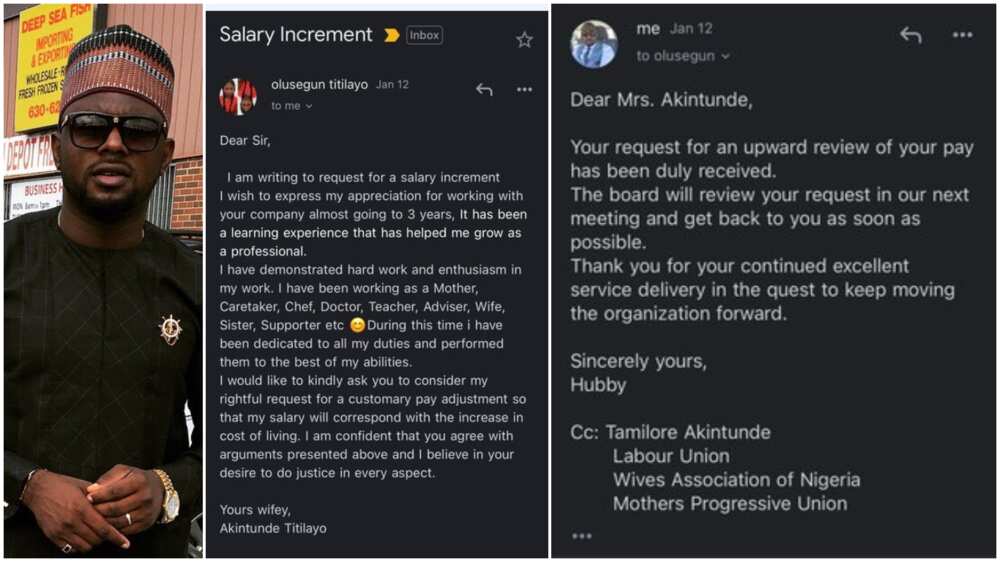 In asking for an increase in her monthly upkeep, a woman sent a lovely email to her husband. Photo source: @ife_akintunde Source: Twitter
@ogchristophers said: "She deserves an increase abeg."
@LChukwuede said: "Now this is what makes marriage interesting and less boring, lovely vibes."
@ife_akintunde please, where did you find this kind of wife? I don't mind traveling there."
@FadeyiAyodeji said: "This hilarious and to be honest I love you guys. Bros please increase madam's salary. Thank you sir."
@Latuk_Chepkemoi said: "Are marriages this interesting?? I could look forward to some interesting times!!!!"